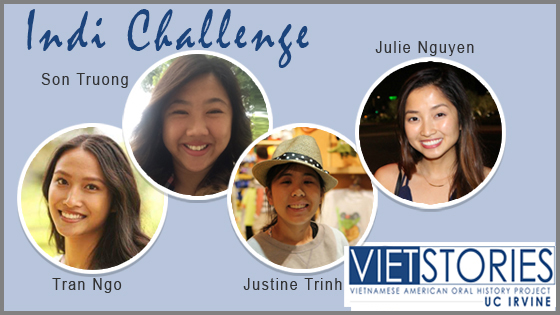 Spotlight Detail
Winners of the Indi Challenge Artifact Video Contest
Congratulations to Justine Trinh, Son Truong, Tran Ngo and Julie Nguyen for their innovative, touching, and creative videos.
UCI students, staff, faculty, and alumni were invited to participate in the VAOHP Indi Challenge Artifact Video contest. Participants were invited to share an item from their own or someone else's family history in relation to the Vietnamese American experience. They were asked to record a 1-2 minute video featuring the item, such as a photo, document, artwork, article of clothing, or object that was of significance to the person being recorded. The focus was on storytelling and the connection between the narrator and item of interest. The competition was sponsored by
Viet Stories: Vietnamese American Oral History Project
and funded by
Illuminations
: The Chancellor's Arts and Culture Initiative.
Winners. Links to online videos:
- First place Buzz winner: Justine Trinh (
http://indi.com/7bz4w
)
- Best Storytelling: Son Truong (
http://indi.com/7bzvr
)
- Most Creative: Tran Ngo (
http://indi.com/7c99t
)
- Most Innovative: Julie Nguyen (
http://indi.com/7c8rp
)