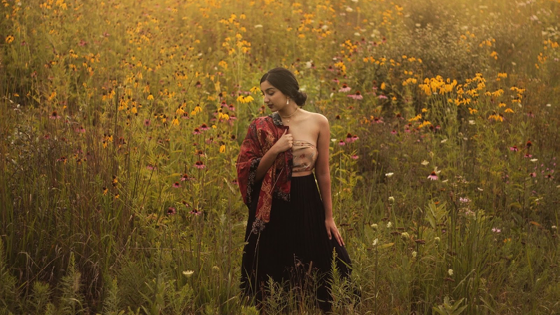 Aditi Mayer: The future of ethical fashion
UCI literary journalism major leverages social media to transform the fashion industry
By Danielle McElroy
Aditi Mayer, a fourth year undergraduate student at the University of California, Irvine, is an ethical fashionista who is using social media to transform the fashion industry. The writer and photographer behind
adimay.com
, her site explores style, sustainability, and social politics in the fashion industry. Call it fashion fatigue; her recent focus is the lack of representation for women of color in the industry's media. Her double major of literary journalism and international studies is an asset to uncovering the effects of this vogue Goliath.
The fashion industry can be intimidating to some, but Mayer has established an online identity by spotlighting ways to challenge the field. Her mission is to combine the aesthetics of the fashion industry with ethics. "We are no longer consumers, but producers of content," she writes. Online outlets like social media have given young activists like Mayer the chance to introduce progressive viewpoints to an industry that often embraces change in everything except the type of woman it puts forth for consumption. And her voice is resonating and reverberating—
her Instagram
has over 15k followers.
"Poverty porn" as Mayer puts it, is part of the problem; "On one end we often have a smiling woman of color photographed with her finished product ‒ a woman uplifted from the margins of society because of the Western market. On the other end we often have a white women modeling the product ‒ one that is able to engage in a culture of global moralism because of purchasing power." The visuals of the fashion industry, including its advertising campaigns, runway shows, and social media posts, can drive systems of power where certain representations of women are associated with labor.
The solution, Mayer explains, is employing women from a variety of cultures in the industry's media, starving the association of sustainability and cultural elitism. "Intentionality in our politics is important," she writes. Dominique Drakeford, a contributor to adimay.com also notes "It is equally important to march up and down for the 'first world' women's rights causes like untaxed tampons, but [women] should be willing to do the same for issues that affect darker skinned women, such as institutional violence or lower pay for equal work."
Although recent campaigns such as Fenty Beauty by Rihanna and the 2018 Pirelli Calendar are great examples of diversity, Mayer is aware that the conversation needs to be retold to reach all corners of its design. The articles on adimay.com encourage the textures of a culture in the mainstream. Fashion lovers from any heritage will feel they deserve representation in the brands they love. Photos of Mayer on the site justify the subjective lens by exploring the reach of a culture's unbound creativity.
There is no longer one type of "it girl. As Mayer writes, "Diversity, for it to truly have the effect of recognizing beauty and talent of underrepresented communities, needs to be presented at every step." This modern evolution in the industry is a rainbow of color.
In addition to leveraging social media to make fashion more inclusive, Mayer is a student ambassador at the UCI Blum Center for Poverty Alleviation. In collaboration with Mayer and other student interns, the center will launch print and digital publication
InSight Magazine
this Spring, with articles on the issues of poverty and inequality in a local context. Her passions for public service and storytelling inspire students to take action and merge their international identities. By defying fashion's current categorization and asking critical questions on the prerequisites of poverty, Mayer is on trend.
Photo credit: Aditi Mayer (pictured)