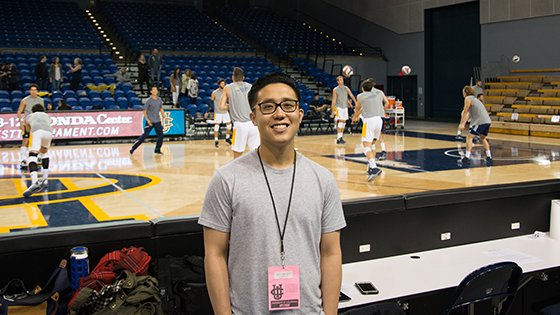 Alumnus Brendan Yu '16 awarded Dat Winning fellowship
The fellowship pairs aspiring Asian/Pacific Islander American writers interested in a career in sports-writing with established mentors
Brendan Yu '16, a recent alumnus of the University of California Irvine's Literary Journalism Program, has been awarded a Dat Winning Fellowship, which pairs aspiring Asian/Pacific Islander American writers interested in a career in sports-writing with established mentors. Yu will work with his mentor, Sachin Shenolikar, the editorial director of Branded Content at
The Guardian
, to produce seven stories. His first piece, "The Battle for Breaking on the Olympic Stage," published in
Vice Sports
here
.
While a student at UCI, Yu gained valuable experience working alongside UCI Literary Journalism Program faculty including Amy DePaul, lecturer, and Miles Corwin, professor, who helped him perfect his writing. Additionally, he served as an editor-in-chief for the
New University
, where he often covered the UCI men's and women's volleyball teams.
"The instruction felt like it was always geared towards preparing you for the workforce after graduation, and from my experience, the faculty of the Literary Journalism Program are truly invested in the success of their students, and will make time out of their busy schedules to see to that," said Yu.
Currently, Yu is sports and digital media editor for the
Curry Coastal Pilot
in Brookings, Oregon. His ongoing investment in sports journalism motivates him to also contribute to
Off the Block
, a men's volleyball coverage website. As an aspiring sports writer, he hopes to continue to learn from his mentor, Sachin, who will help cultivate the skills necessary for being an editor, copy editor, and researcher.
"I hope to refine my ability to pitch stories and to tackle a story from a different perspective than others," Yu explains, "and to learn the skills necessary to serve as a future Dat Winning mentor."
To follow Brendan Yu's work, you can visit his portfolio
here
.