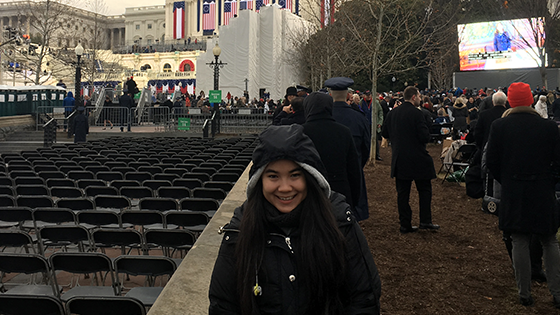 From galas to protests, UCI alumna captures breaking news with virtual technology
Michaela Holland '16 is at the forefront of where virtual reality and journalism converge
Michaela Holland has never been one to sit still. A recent graduate from the University of California, Irvine's Literary Journalism Program, Holland spent her time as a student running her own news crew, dancing for Disney, experimenting with new media technologies and, of course, doing her homework. Now, she's a fulltime freelancer for LIFE VR in New York City, an extension of the iconic LIFE brand. LIFE VR is a virtual reality platform offering immersive experiences through Time Inc. brands' various media platforms, including
TIME, People, Sports Illustrated, Real Simple, Essence, Southern Living
, and
InStyle
. Since joining LIFE VR, Holland has published political pieces on TIME.com on the recent presidential inauguration and Women's March on D.C., partnered with Lucasfilm to publish a "Rogue One: A Star Wars Story" VR series, managed a Pearl Harbor virtual reality exhibit at the Intrepid Museum of New York City on the 75th anniversary of the momentous occasion, and met athletic and pop stars like Michael Phelps and Beyonce during a 360° video shoot for
Sports Illustrated's
"Sports Person of the Year" award gala.
Below, we catch up with Holland to see what she's been up to since
we last left off
and where she's heading to next.
Before you even graduated from UCI, you had started dabbling in 360 videos and virtual reality ("VR"). How did you get started in this medium and did it help launch your career?
It was actually very soon after my graduation. I was introduced to VR through V3 Con, a convention put on by the Asian American Journalists Association. It happened a week after graduating. They had a small panel with VR creators, and it was there that I had a lightning bolt experience. I realized that that was exactly what I wanted to be doing—working on the cutting (even bleeding) edge of immersive storytelling. A woman on that panel recommended I begin to work in creating 360° video. She also added me to a "Women in VR" Facebook group, which helped plug me into an amazing VR community. It not only inspired me, but also kept me at the very pulse of the very small VR industry. I began to experiment with 360° video, buying my own cameras and teaching myself how to edit until 2 a.m. in the morning (I tend to get slightly obsessive with new skills that I am passionate about). My experience in dancing lead to me creating one of the first hip-hop dance concept videos in 360°, which was a huge breakthrough for my confidence in producing 360° video. I received a scholarship to attend a VR convention in San Jose put on by Facebook's Oculus, and it was there I got the idea to do my whole resume in 360° technology. This opened the door to the job I have now.
It hasn't been too long since you graduated. What has been surprising, or the biggest adjustment, since going from your life as a student to full-time worker?
I think it has been an amazing transition. From my full, non-stop workload in school, it amazes me that I get to go home and decompress every day. Weekends are this newfound treasure! If anything, working full-time has made me into a more balanced, healthy human being. I am more self-aware and attentive to the beauty of rest and relaxation after a hectic day of working. Moving to New York was also a serendipitous transition for myself. I love the public transportation, the constant movement and life of the city, and the food!
What has been your favorite experience working in VR thus far?
For VR that I physically produced and edited, my favorite completed piece would be tied between
Sports Illustrated's
"Sports Person of the Year" and the anti-Trump protests in New York City. For VR that I assisted on, my favorite would either be the Star Wars experience, as I am a DIE-HARD Star Wars fan or "Remembering Pearl Harbor," which is a full room-scale VR experience.
What's on your dream list of events to cover with VR?
Specific events? Well, I have done protests and riots already… and a presidential inauguration… so I would say anything that allows me to travel and see new parts of the world. Strictly journalism, I would love to do a piece on homelessness and drug rehab. Dream experiences, more "Star Wars," "Game of Thrones," or anything else historical that deals with women's rights.
While VR has been around for a while, it hasn't quite hit the mainstream yet. What advantages or challenges does this give you when creating news content centered around it?
Interestingly enough, the biggest challenge is education and monetization. Education, because people don't realize the difference between a 360° video piece to a full room-scale HTC Vive experience, which involves 3D rendering and video game software developing. Also the difference between AR (augmented reality) and VR (virtual reality) is something I am constantly explaining. Lastly, monetization, because we are constantly working with sales and marketing on how to make this medium a viable brand and platform, which means like any publication, we need know how we can sell ad space and/or to what capacity we can offer companies branded content.
You have your finger on the pulse of new media. What do you think is next in terms of technology?
Tricky… I think that the HTC Vive will definitely become wireless. I think that haptic suits (which allow you to actually feel things like rain and touch) will become a new thing. We will also need to keep our eyes on IMAX, and how they incorporate IMAX VR movie theaters, which will be huge for our technology and content to become more mainstream.
What's next for you in terms of new frontiers you'd like to explore?
I would love to start telling more stories using AR (augmented reality) in journalism. Think the next "Pokemon Go" for interactive narrative and storytelling. Most people won't go out and buy an $800 HTC Vive, but we all carry around our smart phones. There is a huge potential for journalism to expand into that medium.
You can follow Holland's latest adventures at
interactives.time.com/lifevr/