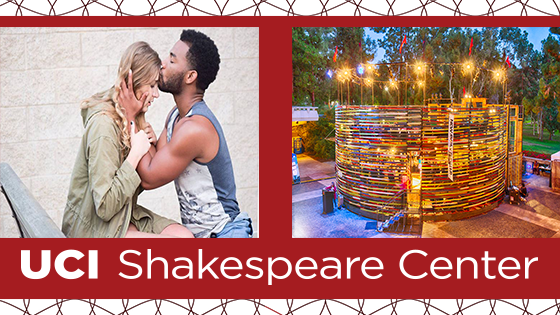 Get Ready to be �Shakespeared�: Arts & Humanities Come Together to Launch UCI Shakespeare Center
UCI Shakespeare Center aims to become the premier institution in California for the integrated production, study and enjoyment of Shakespeare.
April 23rd is the day we celebrate the life of William Shakespeare—the bard whose literary masterpieces have transcended time and boundaries. UCI is commemorating the day with the announcement that it is launching the UCI Shakespeare Center.
Led by Julia Lupton, professor of English and Trustee of the Shakespeare Association of America, and Eli Simon, Chancellor's Professor of Drama and artistic director of the New Swan Shakespeare Festival, the UCI Shakespeare Center will build on existing partnerships between the Claire Trevor School of Arts and the School of Humanities and aims to become the premier institution in California for the integrated production, study and enjoyment of Shakespeare.
Launched with funds from the School of Humanities, and Full Fathom Five, a group of donors that includes several UC faculty members, UCI's Shakespeare Center will be administered by Humanities Commons in cooperation with the Claire Trevor School of the Arts.
The study and performance of Shakespeare at UCI is as old as the university itself. Clayton Garrison, founding dean of fine arts, directed "A Midsummer Night's Dream" with the campus's first class of drama students in 1965. Forty-seven years later, the Claire Trevor School of the Arts launched New Swan Shakespeare Festival, which performs two plays in repertory each summer in an intimate outdoor theater modeled on an Elizabethan stage. UCI has been home to many distinguished Shakespeare scholars, including Robert Montgomery, James Calderwood and Robert Weimann, and for nearly a decade has sponsored the dynamic Group for the Study of Early Cultures.
Here, Lupton and Simon discuss the Bard of Avon, the new center and their big plans to promote Shakespeare at UCI.
Currently, the Arts & Humanities work together on a number of interschool initiatives including Illuminations and the New Swan Shakespeare Festival. How are you hoping a center will leverage or further these partnerships?
JRL:
We've been operating like a center for several years now, thanks to the synergy of New Swan Shakespeare Festival and the research activities of the Group for the Study of Early Cultures. Illuminations is helping us build out the cross-campus, undergraduate dimension of everything we do. Becoming a formal center is the natural next step.
EJS:
Yes, having a Center will give us a clearer identity on campus and in the region, and it allows us to reach out to new audiences.
You both have planned ambitious activities for the center—what are you most excited about and why?
EJS:
It's always exciting to bring leading scholars into the center of a Shakespeare festival like ours. We are embedded in a top-tier academic community so it makes sense to engage our audience in critical discussions about the plays, characters, and themes in these amazing works. Seeing the audience enter the New Swan Theater is always thrilling for me. The synergy between the performers and audience is palpable; this is what makes our festival so special.
JRL:
Supporting New Swan Shakespeare Festival with academic enhancements has become the highlight of my summers since the Festival was launched four years ago. I am also excited about academic-year events, like working with Jane Page on Shaken Shakespeare, a roving performance troupe that brings bursts of Shakespeare to spots all over campus. Look for the kids with the yellow shirts! They are ready to "Shakespeare" you.
What is your favorite work of Shakespeare and why?
JRL:
I have a deep affection for Shakespeare's late plays, especially "The Winter's Tale." Seeing "Twelfth Night" in rehearsal and performance last summer really astonished me, though. It may be one of Shakespeare's most perfect plays.
EJS:
My favorite work is always the one I am working on right now. So, I can say, without hesitation, it's "Macbeth." I find this to be one of Shakespeare's most accessible stories. I love the witches and I'm figuring out ways to weave them into the fabric of the play. It's so much fun to delve into the mysterious tug of ambition, and to watch sheer evil take shape in the heart and mind of Lady Macbeth, and then her husband.
How do you explain Shakespeare's timelessness?
JRL:
For me it's the balance of myth and realism. You get these archetypal stories, many of them with analogues across the globe, that have a real pull on our minds and souls, and then Shakespeare makes those myths incredibly real by crafting living, thinking, loving, lying characters who become our confidants for a while.
EJS:
I'm consistently staggered by Shakespeare's humanism. He understood people and I conjecture that this is why people love his plays so much. When you watch one of his plays, you feel as though you can relate to the characters that inhabit those worlds. You think, "I know what she's going through, I've been there myself." Even the villains are given their due. Think about Shylock and his "Hath not a Jew eyes?" speech. Shakespeare stepped into his shoes and looked at the world through his eyes. This is why his works are timeless.
Why is it important for students across disciplines to learn about, experience and/or perform Shakespeare?
JRL:
In Shakespeare's plays we see the English language exploding with new words, metaphors, and ideas. Learning to read Shakespeare really stretches the mind and the imagination. Studying Shakespeare is a form of time travel that brings his world and ours into contact.
EJS:
When we watch his plays, we learn about the fundamental conditions of being human, and how differing people – from kings and queens to servants and children – react to divergent circumstances. Shakespeare can clarify for us what is worth fighting for in our lives, and what we might aspire to in our dreams.
A recent study conducted by the American Council of Trustees and Alumni reported that only four of 52 top-ranked universities require English majors to take a course on Shakespeare. What is your reaction to this?JRL:
Shakespeare is alive and well at UCI! Although the English department has never required a Shakespeare course per se, his plays often appear in Humanities Core, literature, and Drama courses, and they are frequently performed on the many stages of the Claire Trevor School of the Arts. Through courses, lectures, workshops, and performances, the new center will amplify Shakespeare's presence across campus. Let the revels begin!
Under the umbrella of the center, Lupton and Simon are working together to bring UCI and the Orange County community a number of Shakespeare-centered events and activities, including research partnerships with the Huntington Library, the UCLA Clark Library, and the Folger Shakespeare Library; workshops and master classes with visiting actors, directors, and designers; thematic programs on drama, law and medicine; and an endowed chair in Shakespeare Studies, joint between English and Drama.
Coming up, UCI students, faculty, staff and community members can enjoy the following Shakespeare-related events on the UCI campus:
April 30-May 2: Shakespeare Shorts
- A three-day event showcasing one-hour-long productions of three of Shakespeare's plays, featuring eight actors in each title!
May 6: New Swan Summer Preview
- Eli Simon and Julia Lupton preview the New Swan Shakespeare Festival's summer season at the University Club.
July and August: New Swan Shakespeare Festival presents "Macbeth" and "Much Ado About Nothing
"
August 15 and 16: Shakespeare Weekend
–Afternoon of study beginning at 2 p.m. with UCI faculty and distinguished guests followed by performance at New Swan.
All quarter: Shaken Shakespeare
- Directed by Jane Page, a roving band of thespians deliver short bursts of Shakespeare in locations all over campus. Look for the kids in the yellow T-shirts – and prepare to be "Shakespeared"! Sponsored by Illuminations.
To learn more about the center, please click
here
.
To learn how you can support this new initiative, please contact Nicole Balsamo, senior director of development, UCI School of Humanities, at nbalsamo@uci.edu or 949-824-2923.
Photo credits:
[photo on left] Madison Scott and Blake Morris rehearse "Macbeth," directed by Paul Cook for Shakespeare Shorts Festival 2015 (Artistic Director: Jane Page). Photo: Gigi Greene
[photo on right] New Swan Shakespeare Theater. Photo: Paul Kennedy