Notice! This event has passed.
"Suffer Well" Mellon Sawyer Seminar - Film Screening: The Cancer Journals Revisited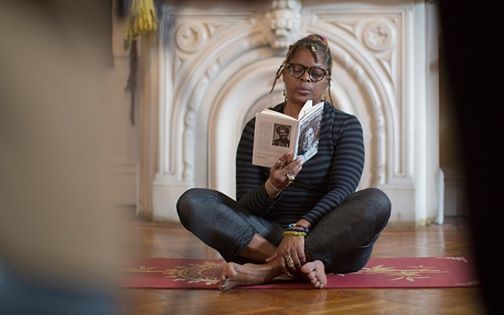 The Cancer Journals Revisited (2018, 98 min) is a poetic rumination on the precarious conditions of survival for women of color. At the invitation of the filmmaker, who was diagnosed with breast cancer in 2010, twenty-seven artists, activists, and current and former patients recite queer black poet Audre Lorde's riveting 1980 memoir of her breast cancer experience, reflecting on what it means to be a woman contending with illness and its afterlife.

Tiffany Willoughby-Herard, Associate Professor in the Department of African American Studies at UCI, will offer reflections following the screening.

Lana Lin is an artist/scholar and Associate Professor at The New School, NY. Her films and artworks have been shown at international venues including the Whitney Museum and Museum of Modern Art, NY, Stedelijk Museum, Wexner Center for the Arts, Oberhausen Film Festival, Taiwan International Documentary Film Festival, Busan Biennale and BAMcinemaFest. She is also the author of Freud's Jaw and Other Lost Objects: Fractured Subjectivity in the Face of Cancer (Fordham 2017).

The venue is wheelchair accessible. Requests for accommodations can be provided with advance request. Please contact jkl@uci.edu.

This event is part of the Mellon-Sawyer "Suffer Well" Seminar Series and is made possible by generous support from the Mellon Foundation. The Sawyer Seminar is a yearlong series that will offer lectures, symposia and presentations from invited speakers that explore human suffering in its various forms and to develop future scholarly projects that confront directly the place of suffering in human experience.