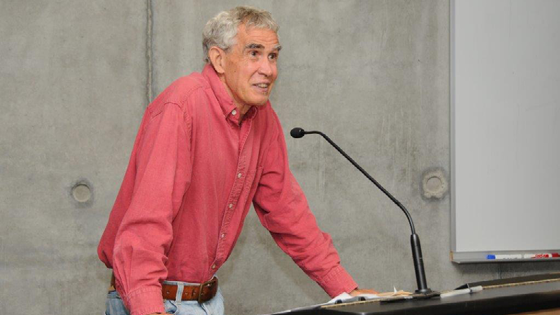 Chancellor's Professor Emeritus, English, awarded Senior Fulbright Teaching and Research Fellowship in American Studies
Brook Thomas will spend Spring 2019 at Leiden University, the oldest university in the Netherlands
Brook Thomas, Chancellor's Professor Emeritus, English, has been awarded a Senior Fulbright Teaching and Research Fellowship in American Studies for Spring Semester 2019 at Leiden University, the oldest university in the Netherlands. The award recognizes Thomas's work in law and literature.

While at Leiden University, Thomas will teach an undergraduate course titled, "A Land of Opportunities and Exclusions: Seen through the Interdisciplinary Lens of Law and Literature," and a graduate course titled, "The Law and Literature of Reconstruction." Additionally, Thomas will conduct research on two nineteenth-century figures, historian John Lothrop Motley and lawyer David Dudley Field, for his new book, The Ambassadors of Reconstruction. The book examines the neglected influence that interpretations of U.S. Reconstruction had on U.S. foreign policy.

"This is an extraordinary and well-deserved recognition for Brook Thomas, whose groundbreaking research defines him irrefutably as the leading American scholar of law and literature," said Georges Van Den Abbeele, dean of the UCI School of Humanities.

Thomas is the author of seven books, including The Literature of Reconstruction: Not in Plain Black and White (Johns Hopkins UP, 2017) and Civic Myths: A Law and Literature Approach to Citizenship (University of North Carolina Press, 2007). He earned his Ph.D. from UC Santa Barbara and B.A. from Stanford.

The Fulbright Program, sponsored by the U.S. Department of State's Bureau of Educational and Cultural Affairs, is the U.S. government's flagship international exchange program and is supported by the people of the United States and partner countries around the world.