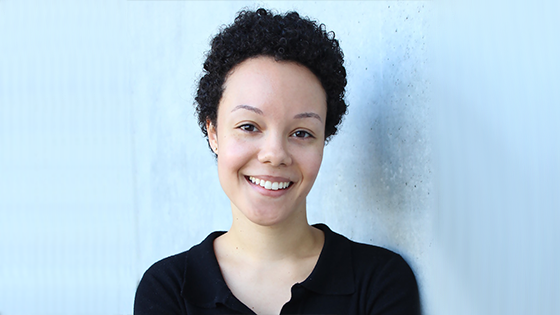 UCI Ph.D. candidate in English Dana Murphy receives John Hope Franklin Dissertation Fellowship from the American Philosophical Society
Fellowship will provide Murphy with year-long support to finish her dissertation on Phillis Wheatley
Dana Murphy, Ph.D. candidate in English at the University of California, Irvine, has received the only dissertation fellowship given by the American Philosophical Society this year. The John Hope Franklin Dissertation Fellowship, named in honor of a distinguished member of the American Philosophical Society, is designed to support an outstanding doctoral student at an American university or an exceptional American doctoral student abroad who is completing the dissertation. The fellowship provides Murphy with a one-year stipend of $25,000 to complete her dissertation.

Murphy's research focuses on African American and African diaspora literature with an emphasis on poetry. Her dissertation "Divine Quiet: Phillis Wheatley's Gentle Mastery of Meter, Genre, and Address" proposes that Phillis Wheatley (c. 1753-1784) uses poetic meter, genre, and address as strategies of quietness, or reticence, that enable her to "speak" about her enslavement through a strict adherence to, rather than departure from, poetic form.

"I think it is difficult for some readers to imagine a woman who endured enslavement while writing poetry," said Murphy. "For over two centuries, readers have fine-combed Wheatley's every word for signs of resistance, for her voice of protest. Rather than try to rewrite her poems or fix upon the details of her life, my project reads her Poems on Various Subjects, Religious and Moral as intentionally voiceless. Instead of speaking about herself, verse conventions allowed Wheatley to use her readers' responses to broadcast what she could not say."

In addition to her scholarly work, Murphy has served as the graduate student representative for the Diverse Educational Community and Doctoral Experience (DECADE), a program housed under ADVANCE with the mission to increase the recruitment and retention of diverse students receiving doctoral degrees at UCI.

"We are incredibly proud of Dana's scholarly contributions and thrilled to see her recognized by the American Philosophical Society," said Georges Van Den Abbeele, dean of the UCI School of Humanities.

"I am honored to receive the John Hope Franklin Dissertation Fellowship from the American Philosophical Society," said Murphy. "John Hope Franklin was an eminent African American historian and it is a privilege to complete a dissertation that is supported by his legacy. Phillis Wheatley dedicated her second manuscript of poems (now lost) to Benjamin Franklin, founder of the American Philosophical Society. Therefore, it is a special honor to complete my dissertation on Wheatley with the Society's support."

About the American Philosophical Society

The American Philosophical Society, the oldest learned society in the United States, was founded in 1743 by Benjamin Franklin for the purpose of "promoting useful knowledge." In the 21st century the Society sustains this mission in three principal ways. It honors and engages distinguished scientists, humanists, social scientists, and leaders in civic and cultural affairs through elected membership and opportunities for interdisciplinary, intellectual fellowship, particularly in the semi-annual Meetings in Philadelphia. It supports research and discovery through grants and fellowships, lectures, publications, prizes, exhibitions, and public education. It serves scholars through a research library of manuscripts and other collections internationally recognized for their enduring historic value. The American Philosophical Society's current activities reflect the founder's spirit of inquiry, provide a forum for the free exchange of ideas, and convey the conviction of its members that intellectual inquiry and critical thought are inherently in the public interest.