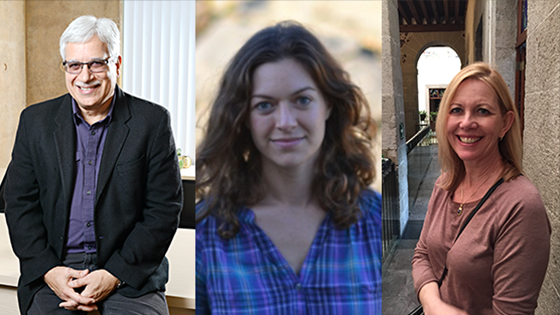 Three UCI School of Humanities faculty receive teaching awards
Luis Aviles, Emily Baum and Maryse Mijalski have recently received awards for their pedagogical excellence.
Luis Avilés, UCI professor of Spanish and Portuguese, has been selected as this year's recipient of the School of Humanities Teaching Award, an annual award given to exceptional School of Humanities faculty. Selection is through department nomination and reviewed by a committee chaired by the Associate Dean of Humanities for Curriculum and Student Services. Emily Baum, assistant professor of history, and Maryse Mijalski, lecturer in European languages and studies, have received campus-wide teaching honors with Baum receiving a Celebration of Teaching School of Humanities Dean's Award and Mijalski receiving a Celebration of Teaching Lecturer of the Year Award.

Avilés is an expert in Spanish literature from the Renaissance period, popularly known as Golden Age literature, which is the primary focus of his teaching. "The teaching of Renaissance literature implies a series of severe pedagogical challenges: undergraduate students have little or no background on the subject; it deals with values and world-views that students are not familiar with; and it presents linguistic difficulties that need to be worked through in class. In light of these challenges, Professor Avilés has amassed an enduring reputation as an exceptional teacher with students of all interests and backgrounds flocking to his classes," said Georges Van Den Abbeele, dean of the UCI School of Humanities. "Professor Avilés's teaching has set a standard for teaching in our School that many of his colleagues strive to emulate. In this way, his teaching benefits not just his students, but the activity of his peers as well."

Baum and Mijalski were competitively selected from campus-wide nominations by the members of the Academic Council on Teaching, Learning, and Student Experience, as well as by those sponsoring the various awards. They were recognized at the 24th Annual Celebration of Teaching sponsored by the Academic Senate Council on Teaching, Learning, & Student Experience (CTLSE) and the Vice Provost for Teaching & Learning on Thursday, May 4.

An expert of modern Chinese history, Baum focuses her research on the history of psychiatry in twentieth-century China. Her broader research interests include comparative medical history, the study of illness and deviance, and popular religion. "Emily is deeply committed to the success of our undergraduate and graduate students," said Van Den Abbeele. "She is consistently praised in student evaluations for her accessibility and ability to engage students of different cultural backgrounds, while her faculty peers praise her pedagogical talent and innovation. Modern Chinese history is a complicated topic, and Emily frequently teaches this course to a mix of international students who think they know everything about China and domestic students who feel they know little or nothing about the topic. Nonetheless, Emily has proven her ability to overcome this split constituency and is praised by her students of all backgrounds for her ability to interweave various pedagogical approaches and multiple narratives to help her students critically develop their own increasingly informed perspectives and interests. Emily is relatively young in her UCI career but has already made an indelible impact; we are delighted to present her with a Celebration of Teaching award."

Mijalski is a lecturer in the Department of European Languages and Studies and academic coordinator for the school's French & Italian programs. "Maryse is one of the highest rated instructors in our school by student evaluations," said Van Den Abbeele. "Both students and peers praise her masterful creation of a beginning French course, citing a language immersion atmosphere that allows students actively to engage with French language and culture. Outside of the classroom she is no less enthusiastic, having organized a regular French Table, a French film series, and an annual Francophone Day and Carnival. She recently established an innovative 'Intercultural Online Exchange' for the second year, in which UCI French students are paired with English learners at the Ecole Normale Supérieure de Chimie, de Biologie et de Physique in Bordeaux."

Faculty in the UCI School of Humanities are known for their commitment to student engagement and success. Humanities Core, the school's yearlong humanities primer, enrolls 1,000 students every year and is consistently one of the highest-ranked courses on campus by students.