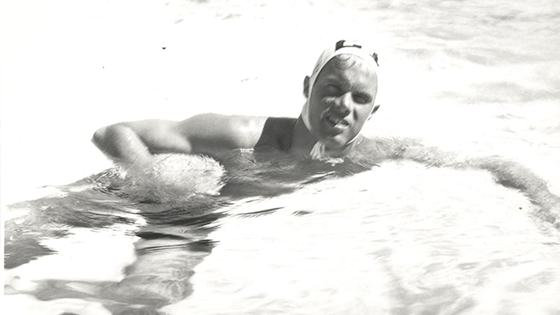 UCI alumnus and innovator Robert Nealy to be honored at UCI Lauds and Laurels
At the UCI Alumni Association's 47th-annual Lauds & Laurels ceremony, Robert "Bob" Nealy will be honored with a posthumous Distinguished Alumni Award
The University of California, Irvine Alumni Association will honor alumnus and surf innovator Bob Nealy with a posthumous "Distinguished Alumni Award" at the March 30 Lauds and Laurels ceremony. The UCI Alumni Association's Lauds & Laurels ceremony honors the university's best for their service to the community, professional excellence and campus involvement. Nealy's wife Sara and son Trevor will receive the award in his honor.

Known as "the father of the leash," Nealy '68 revolutionized the surf leash by placing the leash at the tail of the surfboard and using Velcro straps and a longer cord to prevent leashes from snapping back. Inspired by the life-vests used in the Air Force, of which Nealy served as part of its Air Rescue and Recovery Squadron at March Air Force Base, Nealy innovated the surf leashes now ubiquitous today. In 1973, he founded Surfmore in his hometown of San Clemente and became an icon in the surfing community.

"People come and go in life and only a few are recognized for their achievements. It is through the commitment of time and money of organizations such as yours that recognize these achievements and honor so many that otherwise would be forgotten," said Sara Nealy. "He was loved by so many for his compassion, understanding, integrity and endearing friendship. His success reflects that character and was present in all that he accomplished. It is with honor and a grateful heart that my son and I will be accepting this Distinguished Award from the School of Humanities on Bob's behalf."

Nealy majored in history at UCI, where he was one of the first two student-athletes to earn All-American honors, sharing that distinction with Pat Glasgow in water polo in 1965, the inaugural year of the University.

In addition to being a surf innovator, Nealy was a teacher and water polo coach for more than 30 years at San Clemente High School, Capistrano Valley High School and Tesoro High School. His legacy includes his tremendous dedication to his students.

Nealy was inducted into UCI's Athletics Hall of Fame in 2001. He passed away last September after a long battle with cancer.

UCI's Lauds and Laurels will be held at a secret location on campus showcasing one of UCI's state-of-the-art new buildings. Themed "The Distinguished Anteater Dining Society," the evening will start with signature cocktails, followed by food and wine pairings inspired by notable alumni.

For more information on Lauds and Laurels, click here.