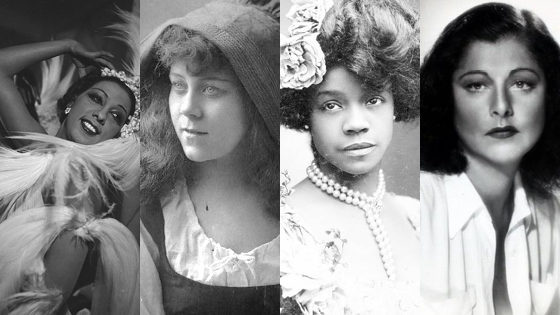 Bad girls of the 20th century: UCI professor's new book highlights four performance icons who embodied and defied stereotypes
Professor Jeanne Scheper explores past & continuing receptions of Aida Overton Walker, Loie Fuller, Libby Holman, and Josephine Baker
Femme fatale, diva, bad girl—these are just some of the phrases we use to describe powerful women who defy neat categorization. In her new book, Moving Performances: Divas, Iconicity, and Remembering the Modern Stage (Rutgers University Press, 2016), Jeanne Scheper, associate professor of gender and sexuality studies at the University of California, Irvine, explores the past and ongoing receptions of four early twentieth-century performers who were icons in their own time and continue to fascinate --and mystify-- us today: Aida Overton Walker, Loie Fuller, Libby Holman, and Josephine Baker.

It started with "Salomania" an erotic dance fad at the turn of the century. At that time, Salome, the biblical character and femme fatale archetype, permeated popular culture to the point that her story was adapted into plays and operas (both high and lowbrow), depicted in art, and incorporated into women's fashion. The dance, depicting fears of female sexuality and xenophobia, was performed by modern dance innovators including Aida Overton Walker and Loie Fuller during their international performance careers. Examining torch singer Libby Holman and performer Josephine Baker, Scheper found that each performer's complex and varying relationship to their personal and public identities invites contemporary audiences to consider the performative aspects of class, sexuality, race, nationality and gender, and thus think critically about each of these categories.

"The divas I examine in Moving Performances traveled uncharted waters, forged new repertoires, and did so under enormous constraints - both literal and figurative," the book will come away with the desire to take a closer look at these performers, their performances and their afterlives in a broad cultural context."

Aida Overton Walker (1880-1914) has only marginally been restored to the annals of modern dance history and the genealogies of African American theater. "Despite being a celebrated star"—an originator of the American genre of art-dance, a developer of modern dance, and a teacher-mentor who sought to better working conditions and expand roles for black women on the stage—Overton Walker is no longer a household name," said Scheper. "Bringing Overton Walker into the forefront of discussions about race in the early twentieth century might help us better contextualize the history of performance as critique, especially as it pertains to racial injustice."

Loie Fuller (1862-1928) was an innovator of modern dance who used futuristic technology as well as orientalist aesthetics and techniques in her performances. "Fuller's work was both spectacular and apparitional, featuring effects that demonstrate how deeply inflected her performances were with themes of moving-image technologies," Scheper said. But current scholarly work on Fuller rarely tackles the complicated nature of her relationship to managing the careers of dancers from Japan. She both drew attention to their work and performed in a style that Scheper calls "racial drag." "Racial drag, in the case of Fuller's Salome performance, is accomplished through changing wigs and costumes, mobile facial expressions and frozen stylized gestures. Thus, racial drag is used as a tool of gender expression and to produce the new woman for the white performer. However, a full account of this appropriation does not exist in the historical archive of dance and performance," said Scheper.

Libby Holman (1904-1971) may be best known as a "torch singer," someone who sings sentimental love songs, and a stage actress. Although Jewish, during her career, her voice was described as "aurally passing" as African American. She would later become involved in the Civil Rights Movement. Despite actively crafting her legacy by donating her papers to the Boston University's Howard Gotlieb Archival Research Center, she is still most known for the scandals in her personal life, including open relationships with both men and women and the murder of her first husband.

"Holman—a worthy subject of a queer camp and popular theatrical, cinematic, televisual, and journalistic memory—has been relegated predominantly to tabloid history rather than receiving appropriate scholarly attention. Her archive and legacy offer a rich window into the political economies of her sound—marketed to white audiences as reconfigured black sound first through the queerly embodied performance practices of the torch singer and then later as a kind of archival restoration of American folk traditions," said Scheper.

Josephine Baker (1906-1975) was an African-American singer, entertainer, expatriate and Civil Rights activist whose playful yet pointed use of stereotypes in her performances continues to inspire other performers. "I want to consider a certain queer feminist nostalgia for Baker, whose bad-girl antics and daring performances of black femininity in the early part of the century anticipate high-profile self-marketers of female trouble who follow on her wake, from the punk primitivism of Grace Jones or the quirky black dandyism of Janelle Monae to the diva performances of 'Queen Bey,' Beyonce Knowles, who styled herself after Baker at the 2006 Fashion Rocks."

Moving Performances takes its readers through the complexity of four diva icons and prompts us to question why some performers persevere in our collective memories, in the archive and in scholarly works while others do not, and how these memories continue to transform their legacies.

To learn more about Moving Performances: Divas, Iconicity, and Remembering the Modern Stage, click here.