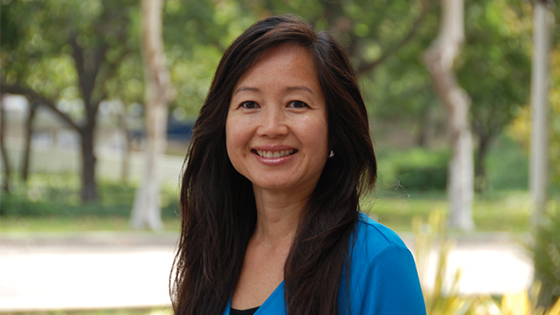 Professor of Asian American Studies Linda Vo to receive Public Image Award from the Asian Americans Advancing Justice organization
Vo will be honored for her leadership in, and advocacy for, the Vietnamese American community
Linda Trinh Vo, professor of Asian American Studies and director of the Vietnamese American Oral History Project at the University of California, Irvine, will receive the Asian Americans Advancing Justice's Public Image Award on Thursday, May 12, 2016. The award is presented to an individual whose high public profile has made a noticeable and positive impression on the Asian American, Native Hawaiian, and Pacific Islander communities through work in public service, advocacy, entertainment or the media.

John and Marilyn Long, founders of the University of California Irvine's Long US-China Institute for Business and Law, and Ed Lee, co-founder of Wahoo's Fish Tacos, will also be honored.

Vo has worked in various capacities with AAAJ based in Los Angeles for over a decade and now begins her term as co-chair of the AAAJ Community Advisory Council in Orange County.

Vo is a national leader in bringing Vietnamese American history to life—both inside and outside of the classroom. She is an ambassador for the UCI Libraries Southeast Asian Archive and launched the Vietnamese American Oral History Project ("VAOHP") in 2011. Since then, VAOHP has captured more than 300 interviews and its online digital collection is a model for oral history projects across the nation.

Formerly, Vo served as the president for the Association for Asian American Studies, and has been a board member of the Orange County Asian & Pacific Islander Community Alliance; Project MotiVATe; and the Vietnamese International Film Festival. She is currently an advisory board member for the Vietnamese American Arts & Letters Association.

Vo recently co-curated with Tram Le, associate director of the Vietnamese American Oral History Project, an eight-month exhibition, "Vietnamese Focus: Generations of Stories," which showcases the complexities of the Vietnamese American experience before, during, and after the war, and includes photographs, documents, oral histories, and ephemera along with original artwork by Trinh Mai. The OC Register called it "extraordinary" and named Vo as one of its "Most Influential 2015."

In addition to publishing journal articles and book chapters, Vo is the co-editor and author of several books, including: Mobilizing an Asian American Community (Temple University Press, 2004), Contemporary Asian American Communities: Intersection and Divergences (2002), Asian American Women: The "Frontiers" Reader (2004), Labor Versus Empire: Race, Gender, and Migration (2004), Keywords for Asian American Studies (New York University Press, 2015), and Vietnamese in Orange County (Images of America series by Arcadia Publishing, 2015).

"It is an honor to receive this AAAJ Public Image award, especially from an organization whose social justice and advocacy work has improved the lives of low-income immigrants and refugees," said Vo. "In my new role, I am pleased to be able to support AAAJ expand its civil rights efforts and direct services in Orange County."

About AAAJ

AAAJ is the nation's largest legal and civil rights organization for Asian Americans, Native Hawaiians, and Pacific Islanders (NHPI). Founded in 1983 as the Asian Pacific American Legal Center, Advancing Justice - LA serves more than 15,000 individuals and organizations every year. Through direct services, impact litigation, policy advocacy, leadership development, and capacity building, Advancing Justice focuses on the most vulnerable members of Asian American and NHPI communities while also building a strong voice for civil rights and social justice.