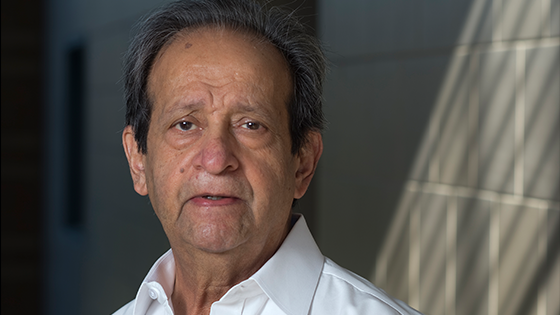 Aijaz Ahmad joins UC Irvine's Department of Comparative Literature
Aijaz Ahmad, renowned political and literary theorist, joins the School of Humanities as Chancellor's Professor in the Department of Comparative Literature
Aijaz Ahmad, political and literary theorist, joins the UC Irvine School of Humanities' Department of Comparative Literature as Chancellor's Professor, a title of distinction used by UCI for only the most highly accomplished scholars and researchers.

Ahmad joins UCI from the Asian School of Journalism in Chennai, one of India's premier institutions for postgraduate education in all aspects of print and electronic media. Prior to this, Ahmad has held positions at York University (Toronto), Jamia Millia University and Jawaharlal Nehru University. Additionally, he has delivered distinguished lecture series at Oxford, Cambridge, and universities in South Asia and Europe.

"Aijaz is one of India's leading intellectuals and a world-recognized theorist of contemporary culture and politics," said Georges Van Den Abbeele, dean of the School of Humanities. "We are thrilled to have such a respected public intellectual join our school."

Ahmad is the author of several books on Marxist theory, literature and politics, including the seminal work, In Theory: Classes, Nations, Literatures (Verso, 1992), which the Financial Times said is a "sustained and searching polemic," noting Ahmad's voice as "one of the most important in the current critical debate." Additionally, he has written extensively on South Asian politics and culture with his book Lineages of the Present: Ideology and Politics in South Asia (Verso, 2000) offering nuanced insight into the politics and history of contemporary South Asia.

Ahmad is a prominent public intellectual. For the past twelve years, he has served as an editorial consultant and contributing writer to Frontline, an Indian-based English-language magazine focused on domestic and international issues.

Ahmad will teach both undergraduate and graduate courses in comparative literature, postcolonialism, and critical theory.

About the University of California, Irvine: Currently celebrating its 50th anniversary, UCI is the youngest member of the prestigious Association of American Universities. The campus has produced three Nobel laureates and is known for its academic achievement, premier research, innovation and anteater mascot. Led by Chancellor Howard Gillman, UCI has more than 30,000 students and offers 192 degree programs. It's located in one of the world's safest and most economically vibrant communities and is Orange County's second-largest employer, contributing $4.8 billion annually to the local economy. For more on UCI, visit www.uci.edu.

Media access: Radio programs/stations may, for a fee, use an on-campus ISDN line to interview UC Irvine faculty and experts, subject to availability and university approval. For more UC Irvine news, visit news.uci.edu. Additional resources for journalists may be found at communications.uci.edu/for-journalists.