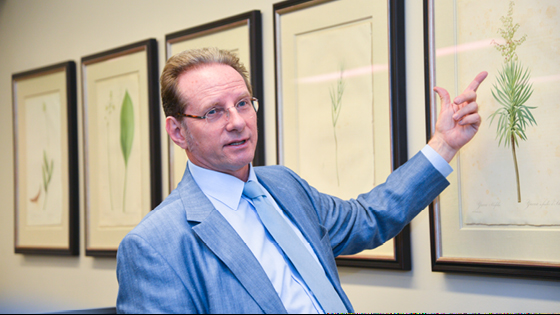 Creating global citizens
Reflections on Dean Van Den Abbeele's meaningful impact on the UCI Humanities
By Annabel Adams

Georges Van Den Abbeele is a tireless advocate for the humanities' ability to create global citizens—people in the world who are emotionally intelligent, culturally fluent, and active in creating connections and solutions that bridge borders and differences. As dean of the UCI Humanities, he has been dedicated to increasing curricular and extracurricular opportunities for students that grow their citizen-of-the-world mindset. With fluency in six languages and a heavily stamped passport, Van Den Abbeele's own global citizenship is a product of his disciplinary focus—the humanities, yes—but also of his upbringing.

At age three, Van Den Abbeele moved with his ethnically Flemish but French-speaking parents from Antwerp, Belgium to Calgary, Canada. As a child, he was a voracious reader who fed his hunger for knowledge with a steady diet of his architect father's discarded blue prints, secondhand books from his mother and public access TV, which he used to learn English. Blue prints provided him with a spatial and visual education that would become a passion. And his grade school—filled with students just like him, transplants from immigrant families from around the globe—fueled his empathy and desire to understand and connect with other cultures.

After losing his job, Van Den Abbeele's father moved the family to Denver, Colorado where Van Den Abbeele spent his adolescence. A college brochure would inspire him to attend Reed College in Portland, Oregon. He was the first generation in his family to attend a four-year university. Just a year into his studies, he would be drafted to serve in Vietnam. As serendipity would have it, the Paris Peace Accords was signed the day before he was to report for duty.

Taking advantage of his civilian standing and time off from school, Van Den Abbeele spent a year traveling and working in Europe. There, he connected with his extended family and learned about the artists, poets and writers who make up his family tree (all the way back to the Roman historian, Sallust, by way of the Venetian dukes of Naxos and the Archipelago). His grandfather, who had set aside his passion for writing in favor of running a failed stationery business, inspired Van Den Abbeele to pursue his passion. When he returned to Reed College, Van Den Abbeele declared French as his major with a minor in classics.

Van Den Abbeele earned a Ph.D. in romance studies from Cornell University where he blended his passion for travel, art and language by studying travel narratives, fables, Renaissance literature, and critical theory. He was hired right out of graduate school by UC Santa Cruz as a visiting professor, though he would eventually lead the French program there before becoming dean. Before joining UCI, he held leadership positions at UC Davis and Northeastern University, where he was the founding dean of the College of Social Sciences & Humanities.

As dean of the UCI School of Humanities, Van Den Abbeele has been both an innovator and supporter, building a strong foundation for the core humanities and leading and fostering the launch of several interdisciplinary and cross-cultural initiatives, including the Medical Humanities Initiative, Illuminations, and the Spanish language-immersion student residence, La Casa Nuestra. Ensuring that students have permanent access to international perspectives, history and culture, Van Den Abbeele worked to secure several endowed faculty positions in Armenian, Jain, Buddhist, and Persian studies. African American studies went from a longstanding program to official department designation.

"Georges has had a vision to make the UCI Humanities a cultural and international hub that bridges the university and the community," says Touraj Daryaee, UCI Maseeh Chair in Persian Studies & Culture and director of the Samuel Jordan Center for Persian Studies and Culture. "When I look around, I see that vision has come to life in the form of new programs, academic offerings and centers in Middle Eastern studies, Armenian studies, Jewish studies, critical Korean studies, and Persian studies."

To increase faculty and graduate student research funding, collaboration and engagement with the public, Van Den Abbeele established the Humanities Commons, which serves as a centralized resource for UCI Humanities faculty and graduate students to secure funding for their research and initiatives.

"Georges made supporting faculty research and building a vibrant culture of research exchange a priority of his deanship. We now have a growing suite of research clusters and research centers, which reflect the dynamic ideas of our colleagues and graduate students and intersect with other programs across the campus and in the region," says Julia Reinhard Lupton, UCI associate dean for humanities research and director of the Commons. "Our growth in funding for faculty research is a direct result of Georges' vision."

Creating opportunities for UCI students, staff and faculty to discuss and address timely and meaningful political issues, Van Den Abbeele launched and supported forums and lectures that brought community leaders, politicians and thought leaders to campus.

"Georges has been an active supporter of the Forum for the Academy and the Public, an exciting venture directed by Amy Wilentz that holds lively events that engage with major issues of the day," says Jeff Wasserstrom, UCI Chancellor's Professor of history and co-founder of the Forum. "From small-scale panels to large-scale workshops, the Forum has made use of local talent in many fields and brought exciting visitors to campus ranging from political cartoonists to acclaimed novelists and prize-winning journalists. The role Georges has played in backing these activities, and others that strive to break down the walls
between varied areas of expertise, has been crucial and is deeply appreciated."

Giving UCI students the same spatial and visual education that fed his imagination and soul as a child, Van Den Abbeele led the acquisition of more than $5 million worth of historical maps, botanical illustrations, watercolors and prints from New York gallery owner Graham Arader and other donors. On display in the school and incorporated into art history, comparative literature and Humanities Core curriculum, the art provides students with access to the past through the very works of paper that guided
statesmen, diplomats, and educators in earlier periods.

"As a younger university, UCI lacks the holdings of more historic institutions. It is important that UCI acquire resources in this area and act as a 'teaching museum' for our majority first-generation students. Art plays an important role in students' ability to see literally how past representations of the world have shaped our current perceptions," Van Den Abbeele says. He also teaches a freshman-level course in this area, "Picturing the World."

While he reflects on his time as dean, Van Den Abbeele is quick to shift gears to the future.

"It is vital that the School of Humanities continues to grow within the university—in resources, funding, faculty, students and staff—and that its extraordinary successes in innovative, highly-ranked programming and initiatives, alumni and academic prestige—in short, SOH's historic and ongoing centrality in the development of the Irvine campus—continue to be supported within and outside the university."

Tyrus Miller will join UCI as dean of the School of Humanities on July 1, 2018.