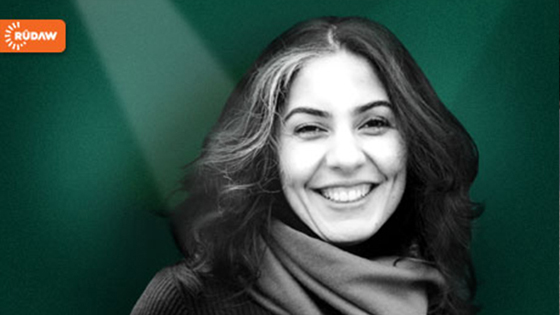 Spotlight Detail
Sheida Mohamadi shares lyricism of Persian language with UCI community
Sheida Mohamadi is the first Poet in Residence at the Jordan Center for Persian Studies. Born in Tehran, Iran, Sheida is a poet, fiction writer and journalist. Her poems have been translated into different languages, including English, French, Arabic, Czech, German, Turkish, Kurdish and Swedish.
As poet in residence, Sheida is engaged in the scholarly and community work of the Jordan Center. She presented a lecture on the idea of homeland in modern Persian poetry in fall quarter 2015 and gave a reading of her own poetry in the winter 2015. While at the center, she is working with translators on a volume of her poetry into English translation. Her most recent book, titled
I Blink and You Are a Peacock
(تا پلکم مژه میزند طاوس میشوی), was published in Spring 2016 and a
talk
& booksigning was held in the Persian Center on June 15, 2016. We asked Sheida to share her poems with us. You can also watch a video of her recent book talk and poetry reciting at UCI (in Persian)
here
, as well as another of her poetry recitings (به استانبول نگاه Ù…ÛŒ‌کنم با گوش‌های مست)
here.
Her previous works include many books such as
Snapshot of Making
Love
(عکس فوری عشقبازی) published in 2007 and
Crimson Whispers
(یواش‌های قرمز), published in Spring 2015 in Paris.
My Hands Tremble Yet Again — A Soliloquy
When
the sky
pulls its coat tight over its head, and
the rain keeps nagging, and
my pink doll
misses the sun…
I become weary of you.
When
the teacup on the table
is a crow starring at me
my throat begins to taste like caw caw.
Black-beaked clock
until dawn
black-beaked clock
till dawn
Clock…
The telephone goes mad with silence,
and I, go blue with you.
Aromas quit the house.
Happiness ditches me.
And the dirty laundry
keep spinning, spinning…
My mother's silver spoons drift and dash in the kitchen. Un-ironed shirts
lounge over cactus trees. I put on your dirty socks and waltz
with your black striped pants. The house spins around this washing
machine, round my head. Dirty dishes play games on the kitchen floor.
I yell at the flower pots and blow out the candles. Happy birthday to me!
I bang on the typewriter and am drenched in your hands' dried up sweat.
I change the TV channel to coax a yawn into my swollen lids.
I hate the pink nail polish bottle I found on the piano.
Black-beaked clock
until dawn
black-beaked clock
till dawn
Clock…
Now
the sycamore's yellow bluffs
and highway 118 …
do not pass me by.
Strawberries,
like your expressions of love,
make me want to barf.
This month,
that month,
I come to hate you.
I hate you.
Poem by Sheida Mohamadi
Translated by Sholeh Wolpe
(Listen to Sholeh recite this poem in English
here
)
** ** ** ** ** ** ** ** ** ** ** ** ** ** ** ** ** ** ** **
I Look at Istanbul with Drunken Ears
This road has been intentionally brought here with the blue bus with the strange crowd of pigeons
And the impatience of the shirt and the skirt and the boots
Something has happened in the mirror what is the matter with you Istanbul?
You have put on somebody and this is the scent of the beloved from your shoulders the scent of earth and geraniums
The evaporating colourful scent.
O, City with the eyes of the sea and colourful waves
Beyond the vapour in your back, walls of swear words and love letters
What is the matter with you Istanbul?
Where are we going with my feet of bronze in the middle of the night?
With these sweet smelling dead offering tea and cigarettes why are we sitting here?
I want to make love to this stone man under the rain, o city
To sing barefoot to Bokhara, to listen to the body of the poplars
The air is an orchard of mint tonight
Do you hear?
- Your health your health!
How sweet is being in love
These extravagant hands these shops
The whirling Snow pomegranate blossoms
Storks in water
And in shirts shadow of a dark dance.
How did you find this room?
I turned into music with the scent of this bed and this quilt, did you know?
With the noise of these windows we laughed deeply …. With you.
O, city, I know the scratching of this line
These singing umbrellas
Something has happened to me with these clouds!
My eyes cannot say Istanbul
My hands cannot …
Poem by Sheida Mohamadi
Translated by Dr. Farideh Pourgiv
(Listen to Sheida recite this poem in Persian
here
)
Recent Interview by Arash Rad about Sheida Mohamadi in Persian (watch on
Youtube
)
--------------------------------------------------------------------
New Publications of Sheida Mohamadi
Jordan Center for Persian Studies & Culture has recently published a new book and an audio CD by our poet-in-residence, Sheida Mohamadi
We are happy to announce the publication of Ms. Sheida Mohamadi's most recent book, "Hug Me Against the Haze", which is a collection of her poems translated into English. These forty two poems provide a glimpse into the state of modern Persian poetry in exile, where ideas about the self and home, nostalgia, love and a feeling of loss are expressed against the backdrop of three continents visited by the poet.
(
http://amzn.to/2hA500D
)
We have also published her audio CD, where she recites thirteen of her poems from her book "I Blink and You are a Peacock" along with the music of maestro cellist, Homayoun Khosravi.
(
http://amzn.to/2y9seBY
)