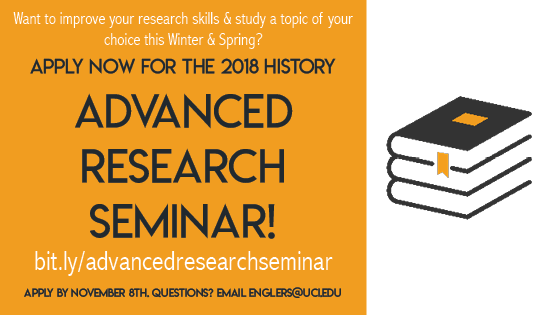 Apply today for the 2018 Advanced Research Seminar!
Click for more information & the application link!
What is the Advanced Research Seminar?
This advanced research seminar focuses on the close reading of texts, the mechanics of writing various forms of history, archival and online research techniques, research topic development, and how to structure a meaningful research proposal. By the end of Winter quarter each student will complete a well-grounded project proposal; in Spring quarter (History 194) students will complete their archival research and article-length essay suitable for submission to a peer-reviewed history journal.
What topic are the research papers on?
Students can choose a topic of their choice to research.
What credit do i get for this seminar?
Students will enroll in History 193 in Winter 2018 and History 194 in Spring 2018. These two-upper division courses can earn History major & minor credit.
How do I know if I'm eligible for the seminar?
Students should complete their upper-division writing (History 100W) requirement & be of junior or senior standing before Winter 2018 to be eligible. Students from all majors may apply but priority will be given to History majors. If any of these requirements worry you - don't give up hope! Email Samantha Engler (englers@uci.edu) to inquire about your personal eligibility.
Who teaches this course?
The Advanced Research Seminar will be taught by Professor Andrew Highsmith. Professor Highsmith studies modern U.S. history with particular interests in metropolitan development, public policy, racial and economic inequalities, and public health. Professor Highsmith is often interviewed by the media as an expert on the Flint Water Crisis. A student favorite, Professor Highsmith is dedicated to helping you hone your research skills and complete an amazing project.
Why should I take this seminar?
Students who take this course always express their excitement about how much they learned in two quarters. It is difficult as a young historian to convince yourself you have the authority to make claims in your writing. This course will upgrade your skills to a level where you will feel comfortable thinking of yourself as a historian. It is also the only class that gives you full reign over what you want to study. Anyone who is interested in elevating their research ability or studying History at a graduate level should apply. The final paper is also an excellent thing to have for future graduate school/job applications.
Apply today at bit.ly/advancedresearchseminar!
(The application is short and won't take you more than 10-15 minutes!
If you have any questions about the course or the application - please email Undergraduate Program Coordinator Samantha Engler (englers@uci.edu) or Professor Andrew Highsmith (highsmia@uci.edu)!