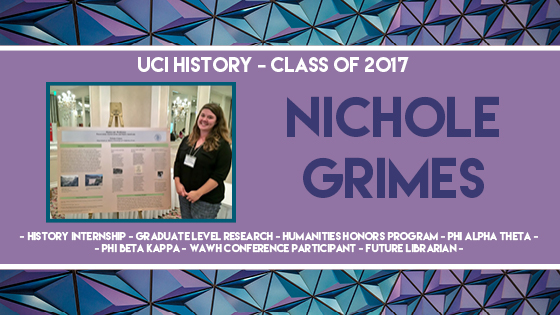 Class of 2017: Nichole Grimes
Meet Nichole Grimes: honors student, graduate-level researcher and future librarian.
On a sunny April weekend in San Diego, a convention full of woman historians gathered to share their research at the 2017 Annual Western Association of Women Historians Conference. The group, consisting primarily of professors and graduate students, attended a weekend full of collaborative panels and poster sessions at the Town and Country Resort and Convention Center.
UC Irvine's History Department had many representatives at the 2017 Annual Western Association of Women Historians Conference. Professors Dr. Sharon Block, Dr. Ana Rosas, Dr. Emily Baum, and Dr. Allison Perlman; lecturers Dr. Alisa Wankier and Dr. Kristina Shull; and PhD candidates Andrea Milne, and Ashley Achee, Kacey Calahane all participated in panels or poster sessions. UCI was not only represented by professors and graduate students: Class of 2017 undergraduate Nichole Grimes also participated in this prestigious conference.
To anyone who has worked with Nichole Grimes, her participation in an advanced research conference is not surprising. In 2015, Grimes received the School of Humanities Undergraduate Award in History for being "a model" for her fellow classmates who "raised the intellectual tenor of the group by her presence". She is a member of the Humanities Honors Program, the national History honors society Phi Alpha Theta and is a nominee for the national Humanities honors society Phi Beta Kappa. In 2016, Ms. Grimes participated in the History Internship Program and worked with Derek Quezada, the Outreach and Public Services Librarian at the UCI Special Collections and Archives. Mr. Quezada described Nichole as "smart, organized and eager".
With all of these accomplishments, it seems natural that Professor Sharon Block was so impressed by Nichole in a Spring 2016 course that she decided to invite her to take a graduate-level research seminar. In Fall 2016 and Winter 2017, Nichole worked with Dr. Block (and a group of first-year graduate students) on her research project "Absence and Worldviews: Preservation, Conservation and Native Americans". For this research, Nichole used a wide range of sources (including the archives at UCI) to tell the story of the Hetch Hetchy environmental debate and the worldviews of preservationists, conservationists, and Native Americans involved in that debate.
After putting so much time and effort into this paper, Nichole Grimes was happy to take it to the WAWH Conference. She says it was "nerve wracking" to present at a conference "filled with graduate students and professors" but the poster session ended up being a "good way to ease [her]self into conferences". Each day, Nichole and a group of graduate students would stand by their posters to talk to and answer the questions of people walking past. With the support of her friend, former classmate, and first-year PhD student Ashley Achee, Nichole says she was comfortable with the questioning and never felt like anyone was "trying to trip [her] up". Nichole excelled at the conference; PhD Candidate Andrea Milne (@MyPenHistorical) commended Nichole in a tweet saying "Very proud of Nichole—a UCI undergrad I've had the great pleasure of mentoring for the past two years. Her #wawh2017 poster is great!".
What's next for this young & accomplished historian? Inspired by her work in the History Internship Program, Nichole Grimes has decided to pursue a career in library and archival work. She will be attending the University of Arizona to get a Master's Degree in "Library and Information Science".
Links:
WAWH Conference: http://www.wawh.org/conferences/current/
"UCI Libraries Celebrate History Interns": http://news.lib.uci.edu/uci-libraries-celebrate-history-interns
Twitter - @mypenhistorical: https://twitter.com/MyPenHistorical/status/858233885129232384