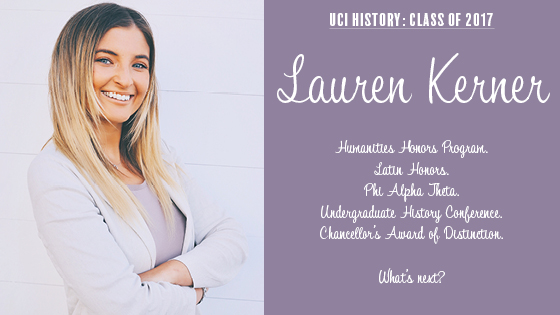 Class of 2017: Lauren Kerner
Lauren Kerner is one of the most distinguished students at UCI. Click to learn more about her accomplishments and see where she will be going after graduation!
The Class of 2017 is a bright and dynamic group of students who will leave extraordinary marks on our world. Few of those students are as distinguished as History major Lauren Kerner.
Lauren Kerner has received every possible honor available to her in the School of Humanities. She will receive latin honors, she has completed the Humanities Honors Program and she will be inducted into the national History honors society: Phi Alpha Theta. On top of all of that, Lauren has been awarded the very prestigious Chancellor's Award of Distinction.
What's in store for Lauren after June 18th? She has been hired by SB Hillel at UC Santa Barbara to serve as their Israel Engagement Coordinator. Lauren's career will begin the day after graduation as she heads off to staff a trip of 40 UCSB students to the Middle East.
You can watch Lauren in action this Thursday, May 18th at our Undergraduate History Conference. She will be presenting the research project "Divinity & Division: An Analysis of Jerusalem's Sacred Spaces" during the 3pm session in HG 1030.
Congratulations Lauren! We can't wait to see what you accomplish after graduation!
If you're graduating this year and would like us to highlight your accomplishments - please email us at englers@uci.edu.