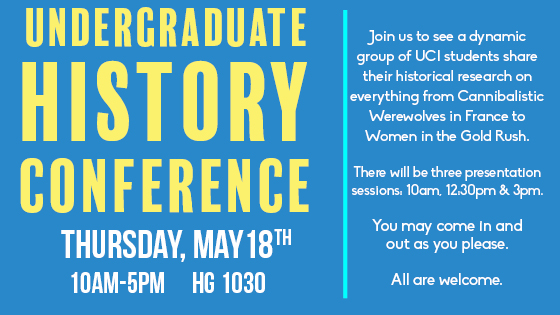 CALL FOR PROPOSALS for the 3rd annual Undergraduate History Conference
The Third Annual Undergraduate History Conference is May 18th. Submit your presentation proposals now!
All undergraduate students, including students not majoring or minoring in history, are invited to participate in the 3rd Annual Undergraduate History Conference. Students can present papers, films, posters or any other form of original research based within any field of history with a focus on any region or era.
If you are interested in presenting, send an abstract to Samantha Engler, Undergraduate Program Coordinator, by email at englers@uci.edu. Abstracts should be no more than 250 words. Abstracts must be submitted no later than
Friday. April 21st.
Got questions? Send an email to englers@uci.edu or visit the History Department in 200 Krieger Hall.