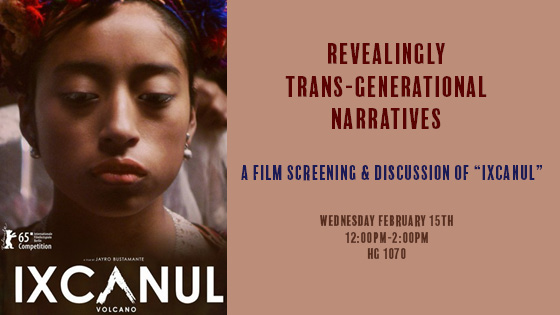 Come watch the award-winning Guatemalan film, "Ixcanul (Volcano)" and join us for a discussion on trans-generational narratives.
"Ixcanul" is a dreamlike depiction of the daily lives of indigenous Mayans who live on a coffee plantation at the base of an active volcano. The main character is a young woman named Maria, who has been promised to a man in an arranged marriage, but hopes to emigrate to America. "Ixcanul" is a profound storyof transnational indigenous Latina/o identity formation.
The film, directed by Jayro Bustamante was screened at the 65th Berlin International Film Festival, where it won the Alfred Bauer Prize. It was also Guatemala's entry for the Best Foreign Language Film at the 88th Academy Awards.
When?: Wednesday February 15th, 12pm-2pm
Where?: HG 1070, The McCormick Screening Room
Who?: Anyone interested may attend the film screening.
Questions?: For more information, contact Professor Ana Rosas (arosas1@uci.edu).
Sponsored by the Anteater Historical Association