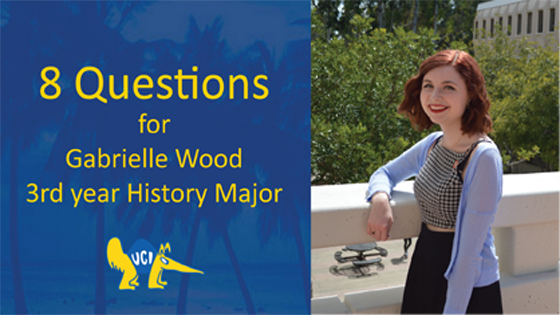 8 Questions for History Major Gabrielle Wood
Gabrielle Wood shares her thoughts on studying history at UCI.
1. What made you interested in History as a field of study?
It could be said that the study of history has been a lifelong pursuit of mine. By elementary school I was well into sharing historical fun facts about the American Revolution with other children and adults, a trend has continued well into today except with a little more variation in the subject matter. As I have grown older I have picked up new time periods to study and new ways to examine history, yet hopefully with the same enthusiasm to share and revel in that new knowledge as that little playground historian.
2. When you think about current events, do you think a background in history allows you to understand them in any particular way?
Having a background as a history major is very helpful when reading or thinking about current events. Many of the skills you pick up as a history major such as the ability to research, place situations within a context be it historical or otherwise, and think about a situation from various points of view, can be invaluable when looking at the modern world.
3. Last year you wrote a research paper on the 1960s plan to train female astronauts. How did you come to that topic and what did you learn through the research?
While researching another topic, I came across a book with an eye catching title talking about women in space in the 1960's. The more articles and books I found, the more I became drawn to these women's lives and their struggle to be accepted into the space program. The Mercury Thirteen's story shows the fascinating dimensions of Cold War gender dynamics, in which these women were able to work within and around their roles to create opportunities in a way that is surprising compared to the conceptions of that time period.
4. What archives did you consult in this research?
Many of the documents and sources for this research project came from online databases and books from the UCI libraries. A large chunk of the paper revolved around a transcript from a Congressional Committee hearing. It was a fun and unique challenge to dissect the arguments and evidence brought forth by the three women representatives of the Mercury Thirteen as well as the committee panel that included not only congressmen and women but also experienced astronauts. This document and numerous newspaper articles written in relation to the hearing were an interesting view into mindset and opinions swirling around in the time period of this failed space program.
5. What have been your favorite classes at UCI, and why?
A list of my favorite classes at UCI so far would have to include the "History of Sexuality in the US up to the mid-1800s", it was interesting to focus in on a specific topic and at times learn that our conceptions of morality and laws of the past are not necessarily true. Another great class offered is Life in the Universe, a physics class that zeros in on what would be needed for life to exist on other planets. In theory it sounds odd, but was it proved extremely interesting and informative about the work currently being done in regards to space exploration.
6. Can you tell us something about your life outside of classes? For instance, what did you do this past summer?
Over this past summer I completed an internship with the Women's Museum of California, where I was able to help with their upcoming exhibit on Second Wave Feminism in relation to California. I had fun researching and writing different texts that were to appear in the exhibit as well as helping pull archival material such as buttons and other ephemera for the cases. During the summer I was also able to volunteer with my local library in their records room, visit a friend in New York, and attend San Diego Comic Con in a costume I made.
7. What are your hopes for the year after graduation?
After graduation I hope to go on to graduate school and work towards a double master's degree in Library Science and History so that one day I can work in a museum or some type of archive.
8. Finally, what can we do better in the Department of History to serve undergraduates?
One of the best ways the History Department can best serve undergraduates is by providing more opportunities for students to see what kinds of jobs are open to history majors. The history internship class, in which students are placed in various public history settings, is a fantastic way for students to see the applications of their skills in a real world context. More classes like that would be beneficial to students who are not sure exactly what they want to do with their degrees as well as students who would like to learn more about certain fields but don't know how to start.
For additional information about the History Undergraduate Program, please contact Marc Kanda, Department Manager, UCI Department of History at mhkanda@uci.edu / (949) 824-6522.