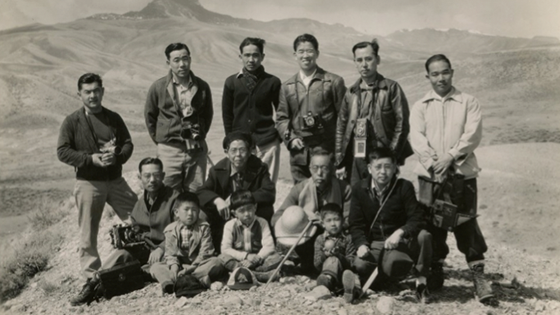 Connecting with my grandfather at Heart Mountain
By Helen Yoshida '11
"Where's papa?" said my father to my 86-year-old grandmother.
I stood in the Ponderosa campground in Cody, Wyoming and imagined my grandma in our Southern California living room searching for her husband in the digital image of the Heart Mountain Camera Club, a photograph captured nearly 70 years ago, on the computer. I looked at the smiling, bespectacled young man in that same photograph, part of the
Cody Enterprise
magazine coverage on the 2011 Grand Opening of the Heart Mountain Interpretive Center. "There's papa," she said, confirming that he was her husband. I smiled to myself, excited that despite her emerging dementia, she could still pick him out from a group of young men—one of many snapshots from an experience beginning behind barbed wire.
During World War II, more than 120,000 people of Japanese ancestry (a majority of them Americans) were forced to relocate to incarceration camps. Once the third largest city in Wyoming, from August 1942 to November 1945 the Heart Mountain Relocation Center held 10,767 Japanese Americans and their families from California, Oregon, and Washington—including my grandparents. Though the camp took 60 days to build, its legacy deeply affected generations of Japanese Americans and their families, whose forced relocation and confinement changed their futures forever.
As a child, I learned about my grandparents' wartime experiences through a painting in our home of a snowcapped mountain and full moon that seemed to stand watch over a quiet town. What captured my imagination most were the yellow squares of light emitting from the houses, hinting at the people and activities inside. As I grew older, I learned the painting was given to my grandmother by
Issei
artist and friend Jishiro Miyauchi when they met at Heart Mountain—not a town but a prison camp where barracks and guard towers replaced homes. It was where my grandparents met but it was also a cold world away from our warm home and I wondered why our family kept it all these years. How bitter or sweet were my grandparents' experiences? What was lost or gained by them and thousands of other Japanese Americans in those lit barracks? I drew on this painting while writing historical fiction set at that camp under
Ron Carlson
for my Humanities Honors thesis at UC Irvine, which also unearthed my desire to understand the significance of this place for my grandparents. After graduating in 2011, I thought visiting the camp would shed light on its significance and somehow connect me with my grandfather, who died before I was born.
My grandfather, Masayuki, was 25 when he moved into Block 27 in August 1942 with his older brother Isamu and his family. As a
Kibei
, he returned from Japan to the United States to create a living for himself, working as a nurseryman and gardener in the Los Angeles area before the war. He joined the Heart Mountain Mandolin Band, worked in the mess hall, and helped farmers in Idaho and Montana harvest their crops. While working outside of Heart Mountain, he thought of it as a beloved place but worried about finding employment and rebuilding his life after the war ended.
My grandmother, Yukiko, and her family arrived in August and September 1942 from Washington's Yakima Valley where they grew vegetables on their six-acre farm and ran the California Hotel. Yukiko became a nurse's aide and took
sewing classes
while her older brothers Kazuo and Makoto joined the baseball team and mandolin band, respectively. Still, it was difficult for them to see their parents lose everything they built and take only what they could carry into Block 15. The semblance of a normal life, complete with Japanese customs, dissipated as they made do with what they had in camp. So when both brothers filled out the War Relocation Authority's "Statement of United States Citizen of Japanese Ancestry" questionnaire in January 1943, they took a stand against their unjust treatment from the inside. By answering "No" to question 27—which asked if they were willing to fight in the U.S. armed forces—and "Yes" to question 28—which asked if they swore "unqualified allegiance" to the U.S. and "foreswear any form of allegiance or obedience to the Japanese Emperor, or any other foreign government, power, or organization"—they became part of the 63 young men known as Heart Mountain resisters who refused to fight for the U.S. military until their family's civil rights were restored. Like the other resisters, Kazuo and Makoto were arrested by U.S. Marshals at Heart Mountain in April 1944 when they did not report for their physical exam. All were tried at the Cheyenne federal courthouse that June, where they were sentenced to three years in prison. Though President Harry Truman pardoned them in December 1947, forgiveness was hard to come by within the Japanese American community and many were ostracized for their actions. Today, their courage and loyalty is recognized by many, including veterans groups, and I am proud to know that regardless of opposition, they did not waver in their beliefs.
Three years after the camp closed on November 10, 1945, my grandparents married and raised three boys in the Los Angeles Japanese American community. Though they spoke little of their experience, grandma saved sketches from her sewing classes while grandpa filled albums with camp photographs, but his project was waylaid by a fatal stroke in 1985.
As I looked at the photograph of the Heart Mountain Camera Club in the Interpretive Center and gazed upon the iconic mountain in 2011, I imagined what it must have been like to pursue my hobbies, meet my great love, and try to right a grave injustice behind barbed wire. And I understood why my grandparents kept their memorabilia. In the midst of confinement emerged lifelong friendships that sustained them through war and anchored them in community as they pieced a new life together in Los Angeles. I came away from that visit with a strong connection to my grandfather, who I never met, and desire to research our family history further. In 2015, my dad made his first trek to the site during the Heart Mountain Wyoming Foundation's annual
Pilgrimage
.
The author and her parents, Ted and Lidia Yoshida, at the 2015 Heart Mountain Pilgrimage.
Photo Credit: Steve Volpin
When I asked him about the first time he learned about his parents' experiences he said "I must've been around 10 when I found out. They didn't go into detail about any of it or how they felt. It was more like an event that happened to them."
He and my mom experienced the cold, strong winds and the quiet that rolled through and engulfed the site. He saw the photographs of the camera club and the resisters sitting in the Cheyenne courtroom. A year later, we still talk about that trip and how Heart Mountain became more than just an abstract place to him.
"I thought of grandpa and grandma, but I also thought of all the different people that I had heard about. They were all there. Being at Heart Mountain gave significance and form to those photographs that grandpa took," my dad said.
Heart Mountain represents a complex time when our country's founding principles were compromised, but it is also a symbol of perseverance, humility, and forgiveness. As a descendent of the legacy of Heart Mountain, I feel that it is my responsibility to keep the lessons from this experience alive by sharing these stories and preserving these heirlooms and artwork from camp, including my grandfather's photograph collection. Through his photographs, I not only see how he created a well-lived life, but also learned how to face those tough times from the even tougher people who overcame them—and later thrived.
Helen Yoshida graduated from UCI with a bachelor's degree in English and emphasis in Creative Writing in 2011. At UCI and after, she has pursued a number of research projects and internships that have taken her to Heart Mountain, Wyoming, where her grandparents were interned during World War II, and to Washington, DC, where she has done original research at the National Archives and Library of Congress and worked with several organizations such as Education Week, the National Education Association, the National Endowment for Humanities, the Maryland Writers' Association, and Washington Life Magazine She is the Executive Assistant to the Chair for the Heart Mountain Wyoming Foundation.


Caption: The Heart Mountain Camera Club circa 1942. Masayuki Yoshida stands third from the right in the back row.
Photo Credit: The Hirahara Family Collection, Anaheim Public Library